Best Photo Editing Apps for Android
It can be quite challengeable to find the best photo editing apps for Android. The reason is a huge number of apps designed for this operating system. You can find the best AI photo editors with unique functionality, free, as well as a lot of simple paid photo filters apps.
To make everything clear for you, I have prepared a list of reliable and frequently used Android photo editors.
Top Photo Editing Apps for Android
FixThePhoto –

Editing and retouching by professionals

Adobe Photoshop Express –

AI editing tools

PhotoDirector –

Auto spot smoothing

Ribbet –

Thousands of effects

Image Editor –

Includes a bunch of PIP image effects

Fotor –

Over 200 collage templates

PicsArt –

Support for brushes and layers

Instasize –

Over 80 unique borders

Pixlr –

Professional image editing features

Snapseed –

29 professional tools

Bonfire Pro –

110+ unique effects

PicLab –

20+ free fonts

Avatan –

Create your own effects

BeFunky –

Editing photos using filters
Choosing the best free photo editor for your Android is rather challenging because you will find hundreds of different filter or photo apps with bags or lags.
Having tested almost all photo editing apps on Google Play, I've chosen best photo editing apps and useful Android picture editors for amateur photo retouchers who want edit photos on their phones. To get the most out of your Android phone, read more how-to articles on the Joy of Android.
1. FixThePhoto
Editing and retouching by professionals
Professional editing by the FixThePhoto team
Adjustment of the main image parameters
Ability to add creative elements
24/7 service

Verdict: FixThePhoto is an easy-to-use editing app for Android that comes with a set of advanced tools for enhancing photos at a professional level. Users can install the trial version to test out the main features of this application without paying a dime.
The app includes all the tools that you might need for editing your photos and removing unwanted details from them. Your order will be taken care of by the FixThePhoto retouchers. You just need to upload your photos and list your requirements.
The professionals can edit the shape of your face in your photos, make you look slimmer, and replace the background if it's necessary. You can also ask them to tweak colors, restore old photos, remove passersby, or delete objects cluttering the frame.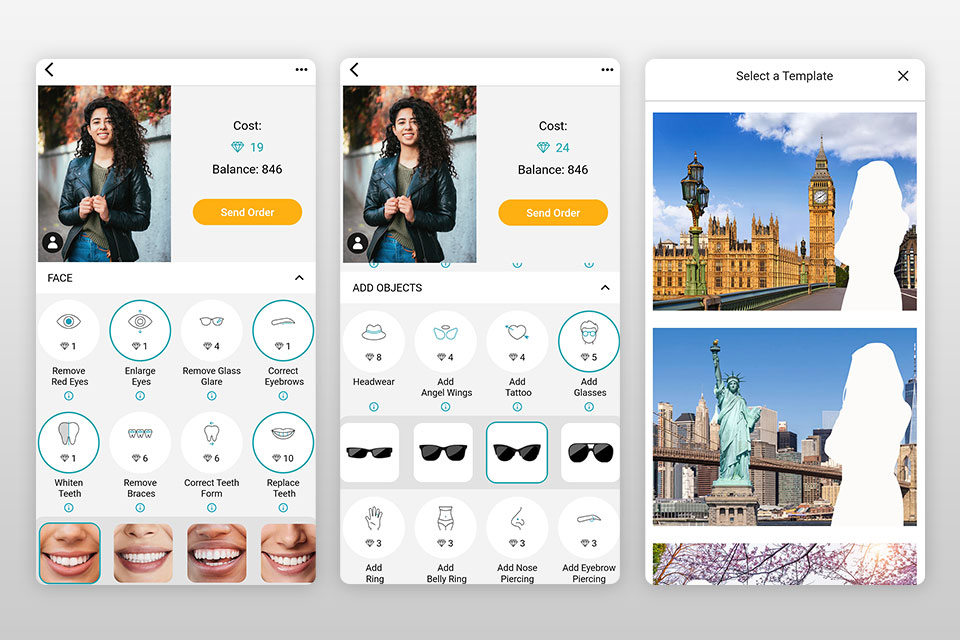 ---
2. Adobe Photoshop Express
Automatic image correction
Adobe Sensei digital technologies
Automatic perspective correction
Spot recovery function
Editing RAW photos


Verdict: Since the market for mobile applications is booming, Adobe has developed Photoshop analog for mobile devices – Photoshop Express. One of the best Android apps for photo editing is available for smartphones and tablets. It works perfectly with iOS and Windows and is completely free. You can use this Android photo editing app for image retouching, enhance colors and objects and correcting distortion.
This photo editing app for Android supports JPEG, PNG and RAW images. Since it is an automatic photo editor, you can correct contrast, exposure, white balance, remove a red-eye effect and more in a couple of clicks.
However, despite the large set of tools and large template libraries, this application can be used only for quick image editing. For a deeper photo editing, learn more how to get Lightroom for free or download Photoshop free.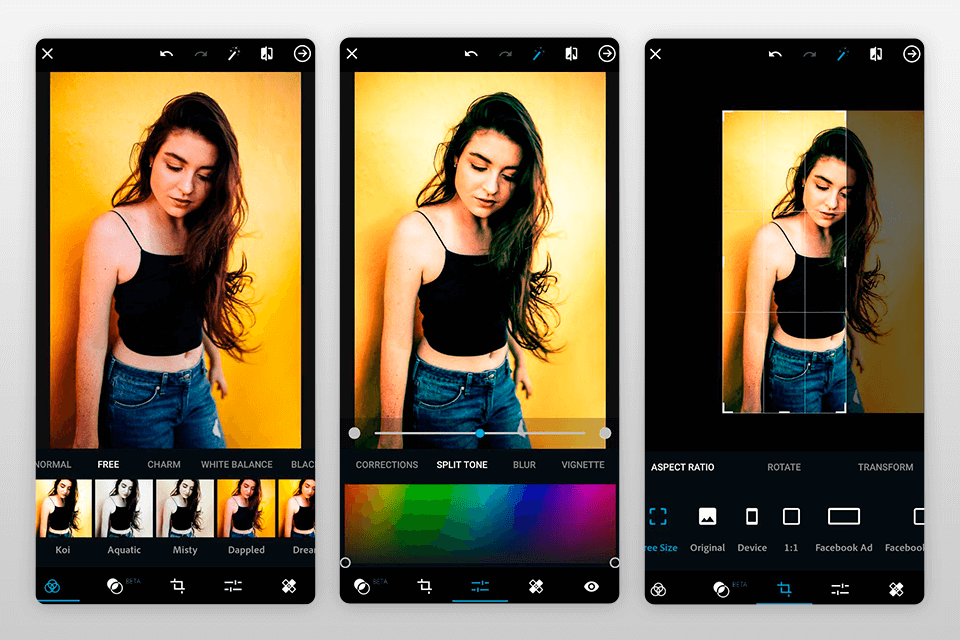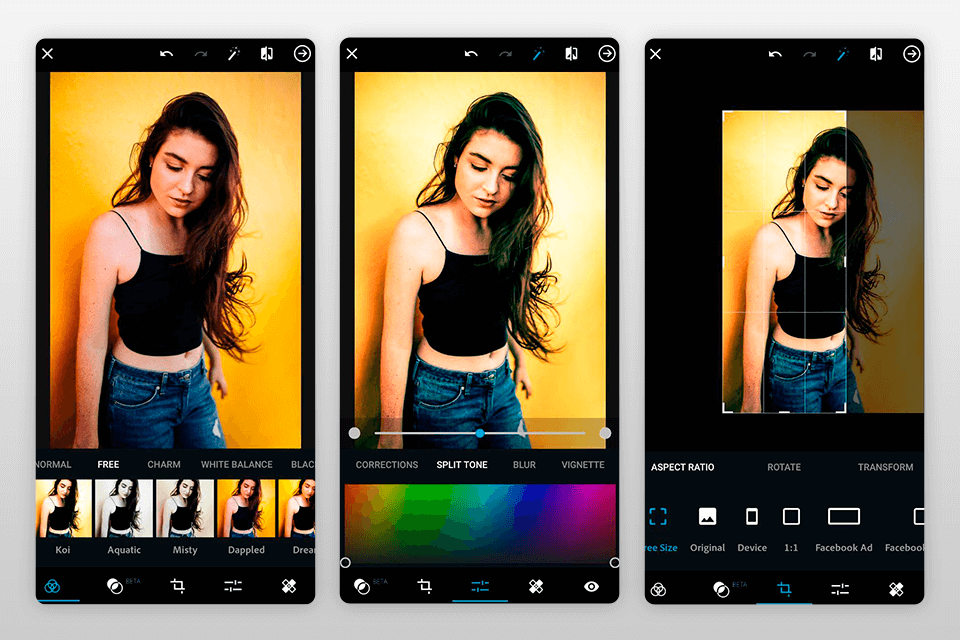 ---
3. PhotoDirector
Supports all image resolutions
Latest AI tools
Allows creating photo animation
Selective photo editing function


Verdict: If you need a program to stylize and edit any area of an image without using photo editing software for PC, you can try PhotoDirector Photo Editor. With the smart features of this Android photo editing app, you can eliminate digital noise, poor lighting, fix blurry photos, and more. Using the latest Animation and Dispersion tools, you can create moving pictures and dramatic images.
It is possible to adjust brightness, contrast, saturation and color temperature in your photos. You can also remove unnecessary objects, or clone them to create unique photos. The program offers the InstaFill tool for fast image posting on Instagram and a huge variety of filters.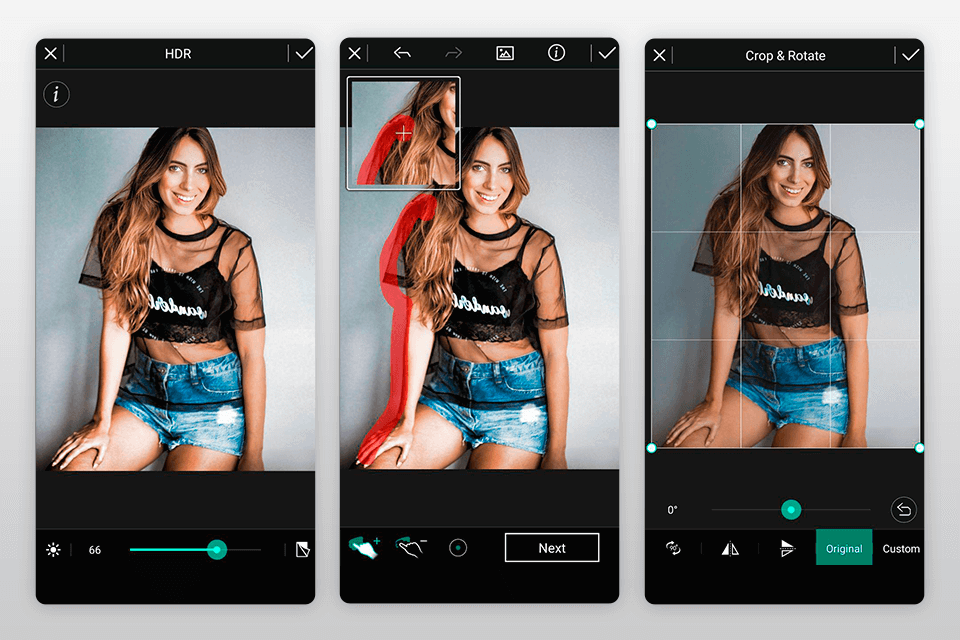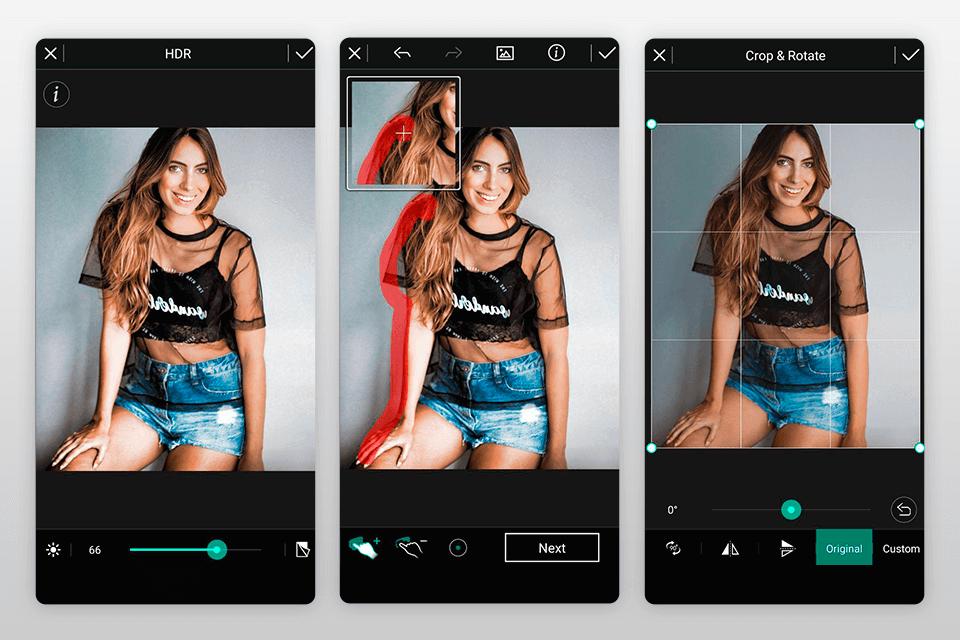 ---
Amazing card templates
A variety of stickers and filters
Requires signing up for full access
Verdict: With Ribbet, you can quickly edit your images to make them look more eye-catching. This service has an array of editing tools that allow you to crop and resize your images.
Besides, you can adjust various settings to further enhance your photos. To make your pictures even more attention-grabbing, you can add stickers, apply filters and create collages. Another advantage is that you can use the "Touch-up" tool to fix any makeup issues.
After editing your picture, you can save it to your PC or share it with your friends on various social media platforms. You can quickly create a collage using a variety of templates that can be further customized to your liking. For instance, you can resize templates, add various frames and change the order of your photos.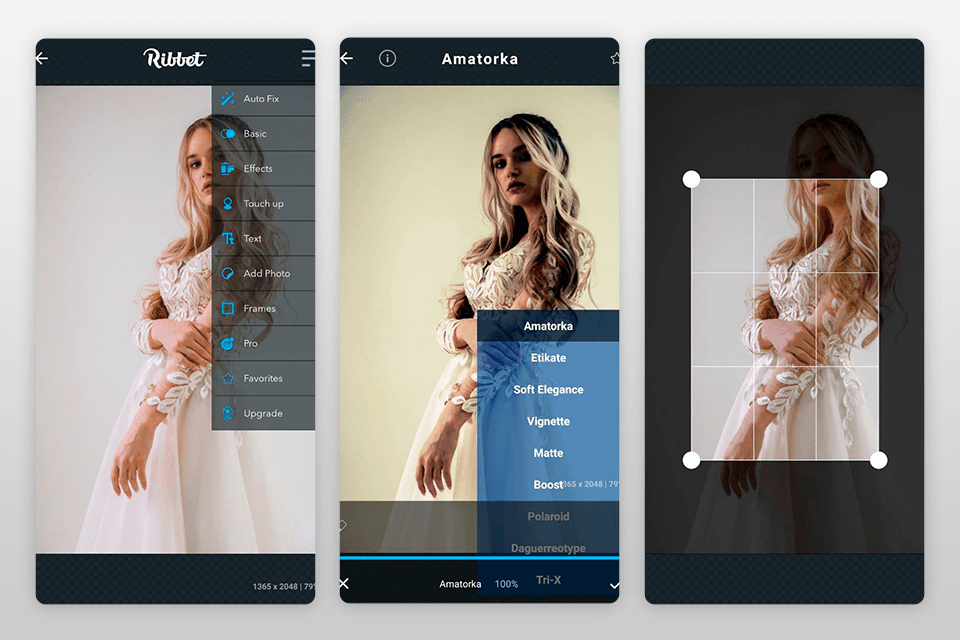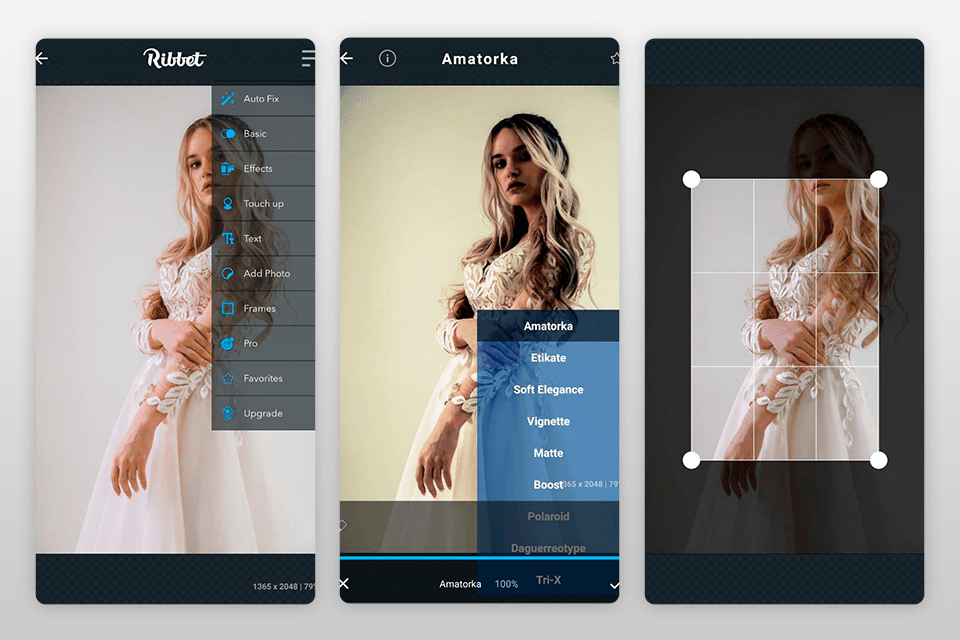 ---
5. Image Editor
Includes a bunch of PIP image effects
Effects for designing picture collages
Quality PIP image effects
Nice collection of photo filters
Crop and resize tools
Lacks advanced functionality


Verdict: Image Editor was developed by Elsner Technologies to help you retouch images, design collages, and apply various effects to enhance the look of your photos. The included picture-in-picture effects are perfect for putting together stylish collages while experimenting with all kinds of layouts, picture grids, backgrounds, etc.
You can also further enhance your photographs by adjusting the colors, adding overlays and text, and making use of other provided tools. Image Editor offers a plethora of image filters, including those that allow you to tinker with the brightness, contrast, and saturation of your photos. Other handy features that you'll find here are resizing, color splashing, whitening, blemish deletion, cropping, and so on. Image Editor lets you adjust and share your images on Instagram, Twitter, Facebook, and Pinterest in just a matter of seconds.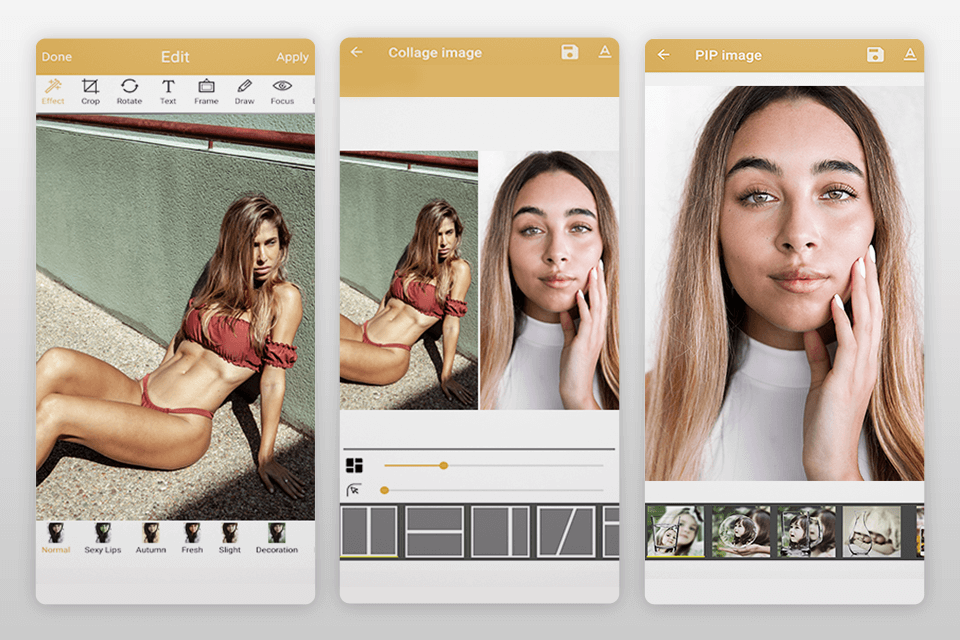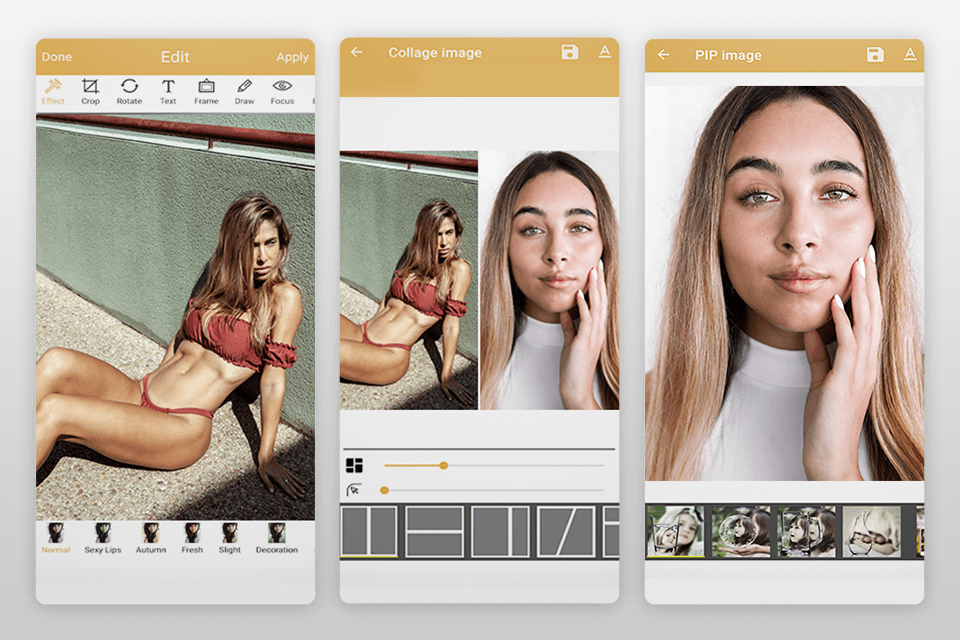 ---
6. Fotor
Unique image editing features
Over 10 photo editing functions
Lots of effects and filters
Automated photo editing process
Fotor social network
The on-and-off disappearance of images in the gallery
Some features are available only to Premium users

Verdict: Fotor Photo Editor is often called the simplified version of Photoshop because it offers you a solid range of functions. You can seriously enhance your photographs, changing different parameters like brightness, tints, etc. Besides, it has some functions typically presented in entry-level photo video makers.
It's one of the best free photo editing apps for Android that can transform a color picture into B&W, use the nostalgic effect of film or retro style. Moreover, if you need, only part of the photograph can be changed.
But for professionals, this is not enough, so the developers added an RGB color setting and a color scale curve. You can use diverse functions for free, a news feed with users 'photos, where you can find inspiration and high-quality adjustments using the curve. You can also use the function to edit RAW file, which allows you to achieve amazing clarity in a photo. I cannot call Fotor ideal but this is definitely the best photo editor for Android on this list.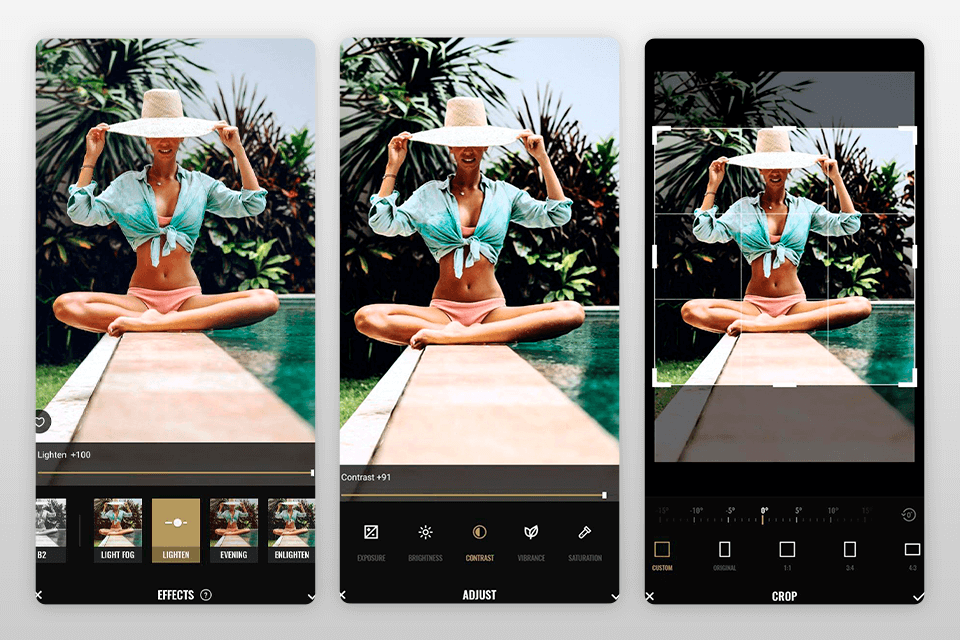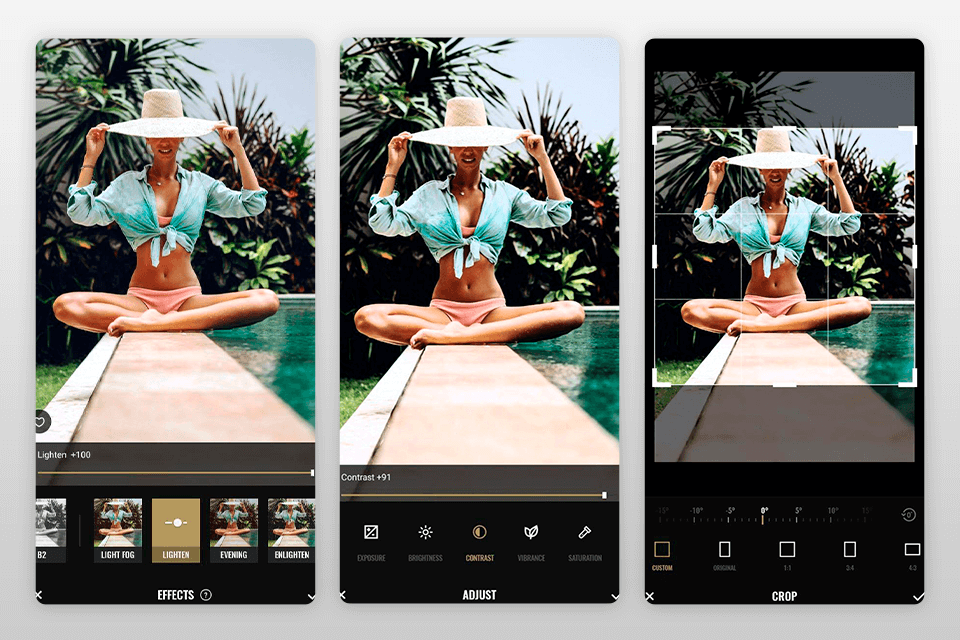 ---
7. PicsArt
Large variety of collage grids
Access to the PicsArt gallery
Camera function
Collaboration with social networks
Some effects don't work properly
Plenty of useless functions
Many ads
Verdict: PicsArt Photo Studio is a powerful hybrid art tool that allows digital artists to create unusual images, combining graphics and photographic images. PicsArt camera gives you an opportunity to use effects in real time. You can also use this photo enhancer to improve your portraits and change hair color, skin tone, makeup and more.
This photo editing app for Android is distinguished because it features brushes, masks, and layers. This makes it possible to draw on a smartphone or a drawing tablet. Drawing cannot be attributed to photo processing, but the effects in this regard are more interesting.
In PicsArt, they are assembled on the FX panel. If you want to create collages, you can use over 1000 different images from the PicsArt library for backgrounds, as well as over 100 ready-made templates and grids. However, if you want to edit old images, you'd better use photo restoration software first and then switch to PicsArt.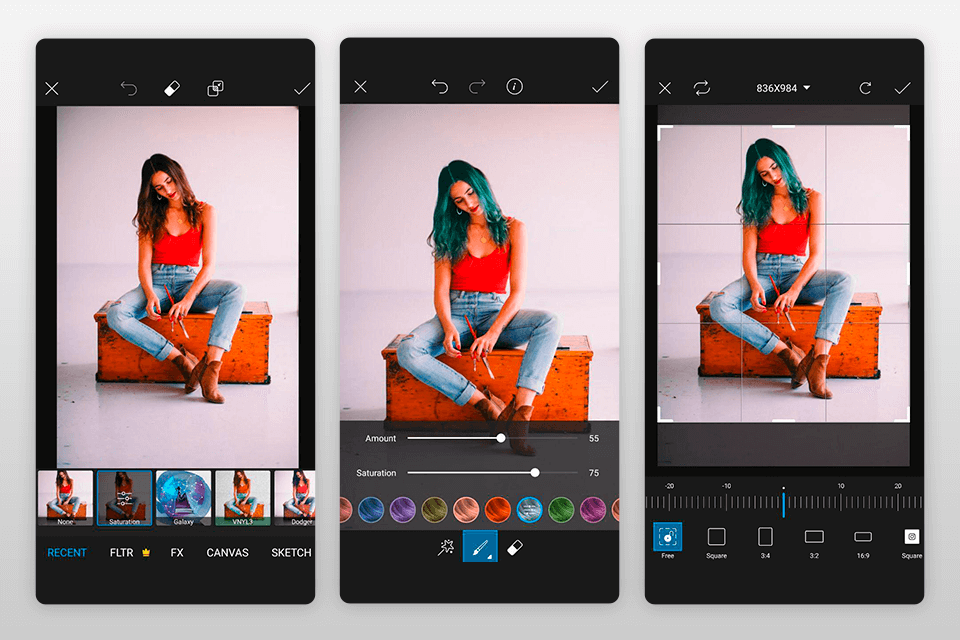 ---
8. Instasize
Professional photo processing tools
Tight integration with Instagram
Unique filters
Uploads photos to social networks without cropping
No serious shortcomings found
Verdict: Instasize is a professional Android photo editing app that offers various filters, effects, layers, text adding feature, and the possibility to personalize your photos. Using professional tools such as Contrast, Grain, and Saturation, you can adjust sharpness, brightness, exposure, contrast, and more in your images. You can also use unique filters to make your pictures naturally beautiful. To protect your creations, take advantage of free watermark software.
With Instasize, you no longer need to crop your standard or panoramic photos to upload them to Instagram. This app will replace your Instagram photo editor by automatically adding a frame or patterns to your photo. You can choose the suitable one yourself – Glitter, Marble, Holidays and others.
Thanks to a large number of layouts, you can create original collages and add text, frames and effects to them. Though it can't compete with top-tier photo animation software, it is the best picture editing app for Android if you want to turn your RAW photos into ready-made social media posts. Thanks to a user-friendly interface, you will easily find your videos after downloading them.
---
9. Pixlr
One-touch image enhancement
Many effects, overlays and frames
One-touch photo editing tools
Large number of image editing functions
Intuitive UI
Confusing photo resizing process
Requires additional downloads
Verdict: Pixlr Mobile is the best photo editing software for beginners optimized for phones, tablets, and other portable devices. It is possible to use options for quick picture enhancement and for deeper image editing. For professional image processing, you can select a single color with the Color Splash tool or add a blur effect with the Focal Blur tool.
You can also use "Double Exposure" to overlay multiple photos and "Automatic fix" to balance colors. It is possible to find a cool filter or overlay among a huge variety of available ones instead of using the best filter apps.
Pixlr is an awesome app for editing photos on the smartphones and animation tablets, but it is still not ideal. Its interface is thought out, editorial functions have been successfully arranged. Based on the foregoing, Pixlr can surely be added to the list of the best photo editing apps for Android.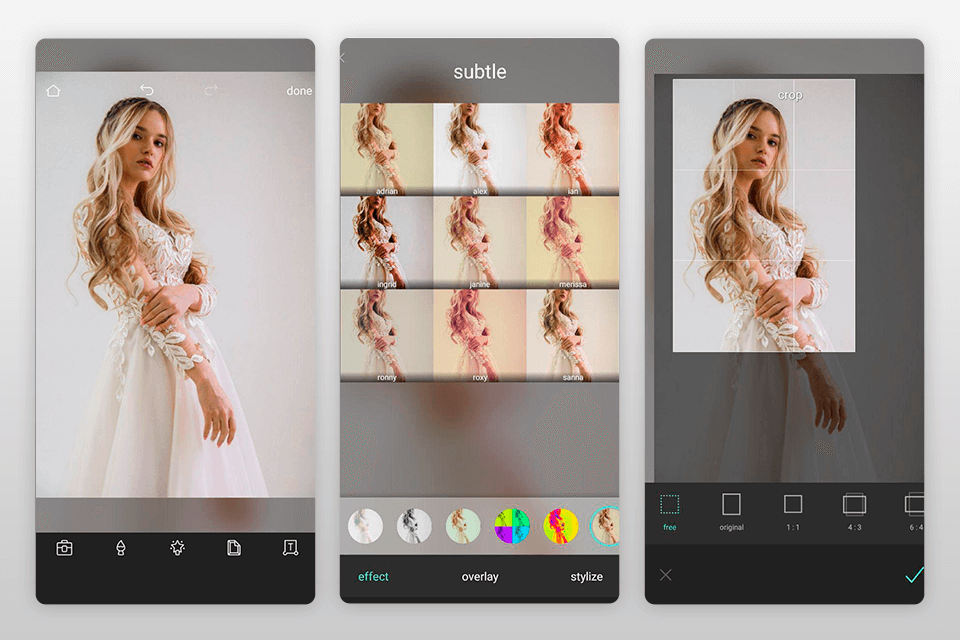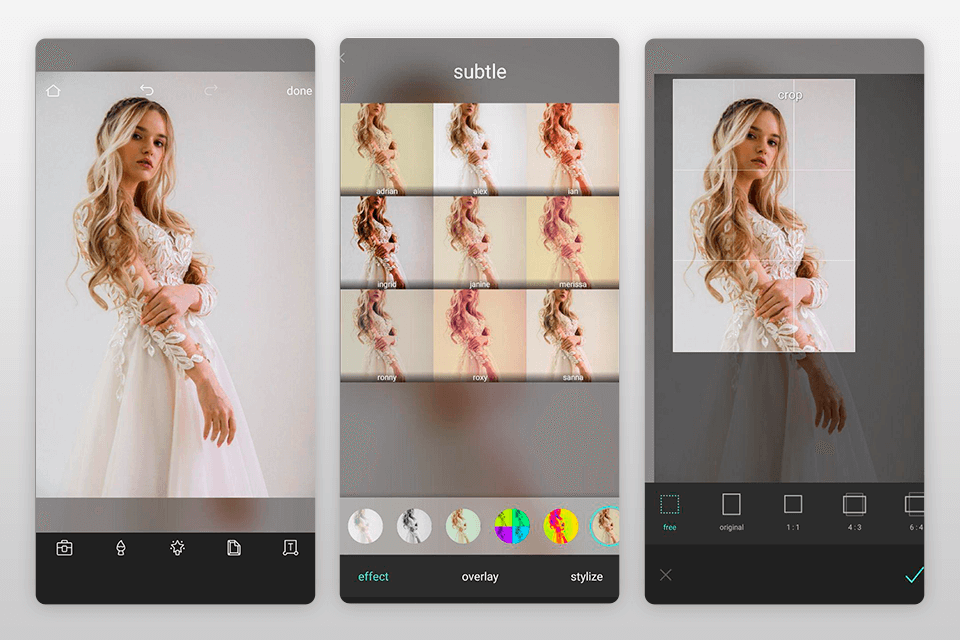 ---
10. Snapseed
Advanced photo editing tools
Undo function
Supports RAW format
Precisely customizable filters
Rare slight bugs while downloading photos
Minor interface flaws
Verdict: It is one of the best free photo editing apps for Android. It stands out with impressive functionality and is absolutely free. Snapseed is suitable for uncomplicated processing of selfie or everyday photos taken in a hurry.
Moreover, you can use it for serious image editing right on the screen of a tablet or smartphone. You can edit RAW, JPG and DNG. There are lots of easy-to-use tools that allow cropping, rotating, increasing sharpness, and more.
Among the useful and many familiar tools, you can find color correction, cropping, sharpening, etc. Of course, there are no less useful artistic elements: retro filters (Vintage), pseudo-HDR (Drama), aging (Grunge) and frames (Frames). Simply select the desired tool, and edit the photo, touching the screen and swyping. With the help of a special function called "Selective Adjust", you can edit only a small portion of the image.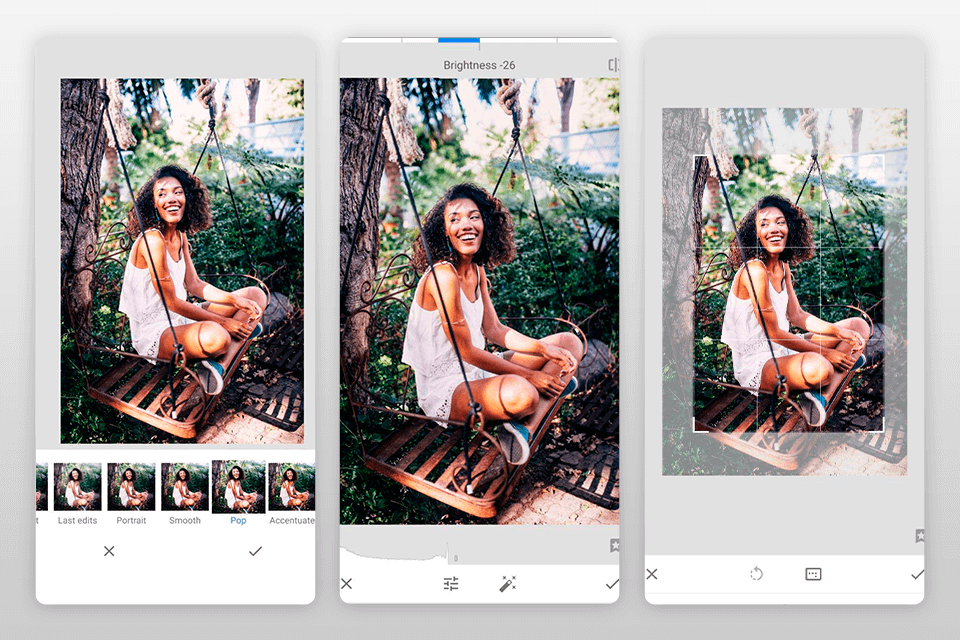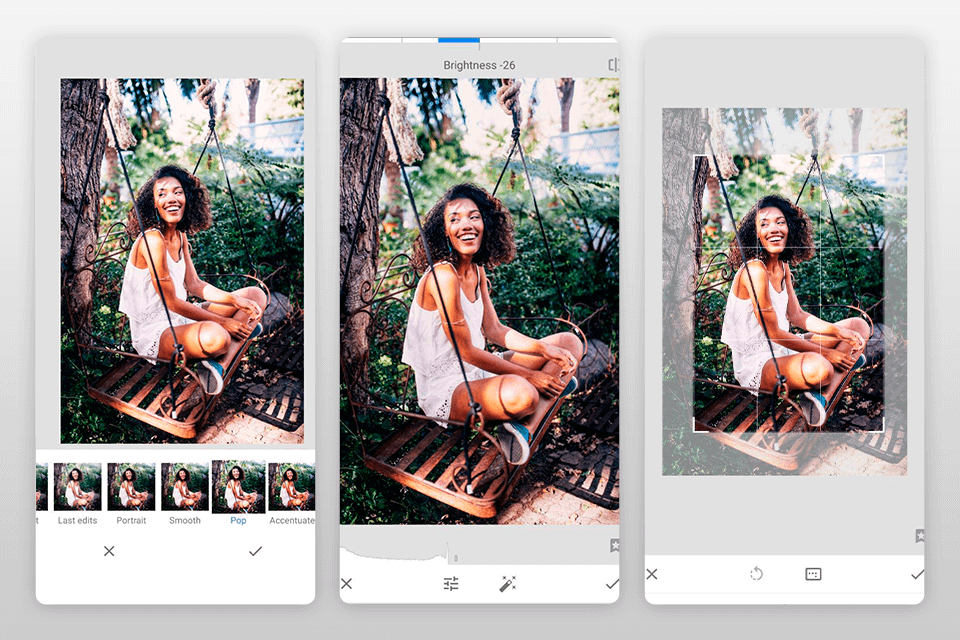 ---
11. Bonfire Pro
Lots of image editing options
You can use third-party filters
Ability to smooth skin and remove blemishes
Supports 4К
Some of the advanced features can't be found in this app for smartphones
To get more powerful features, you must pay almost $10
Verdict: Bonfire Photo Editor Pro is a multifunctional mobile app that can replace the best selfie apps. It has a very impressive set of photo filters and color editing options. You just need to add your photo to this photo editing application and immediately start customizing it using various filters.
Thanks to the good optimization of OpenGL 3.0, this application allows you to very quickly apply any of its filters, even if it works with high-resolution images.
It uses artificial intelligence algorithms that allow evaluate the picture and make the appropriate adjustments. Therefore, the application is more focused on photos for social networks, as it includes a set of functions for improving the face – "Smooth Skin Instantly", "Selfie Makeup" and others. There is also a set consisting of 16 filters, which are optimized for a human face.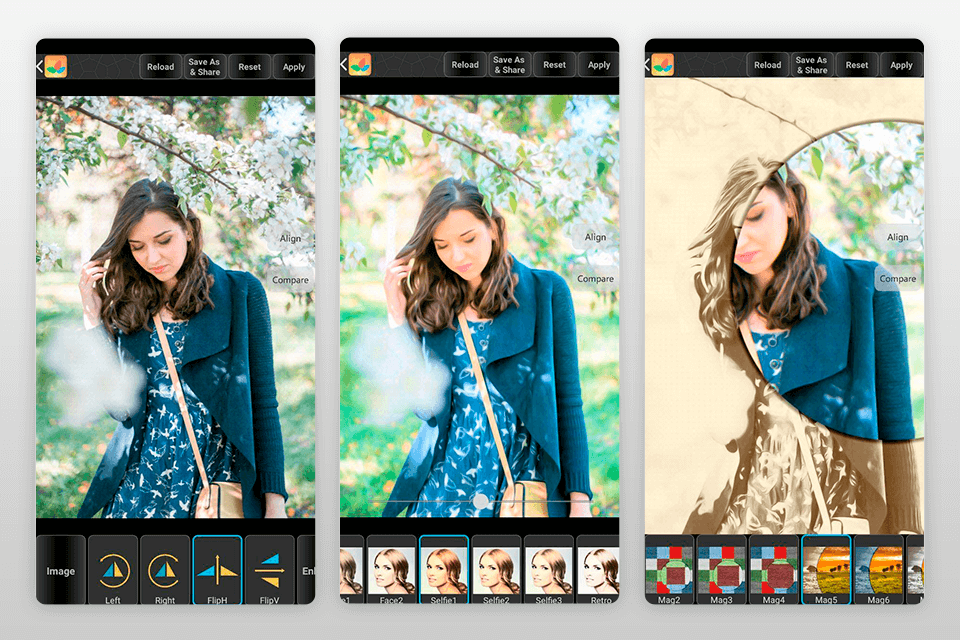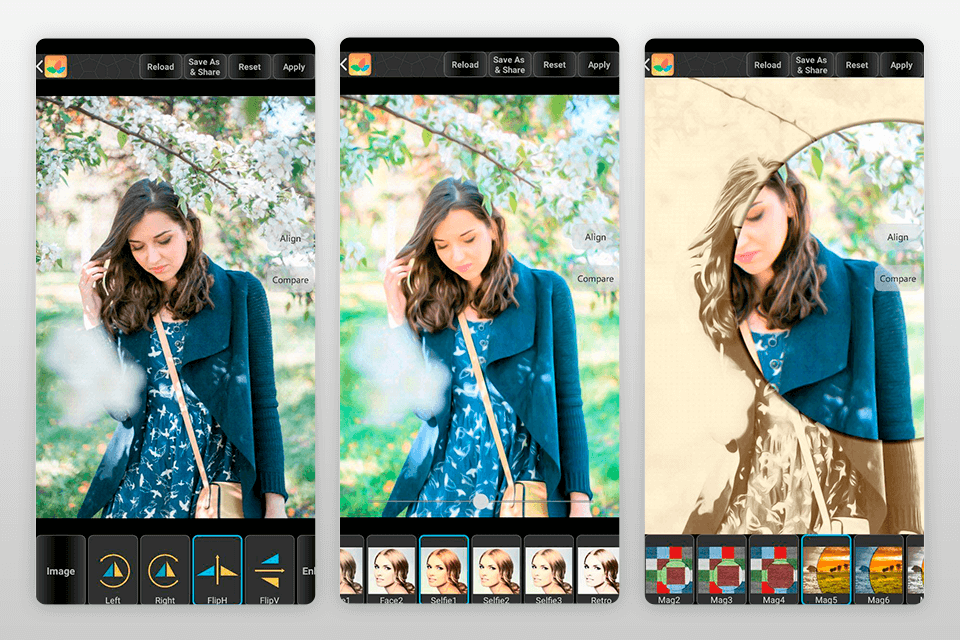 ---
12. PicLab
Оver 20 gorgeous photo filters
Professional work with text
20+ free fonts
Basic photo editing tools
Integration with social networks
Lots of paid content
Few professional image editing functions
Verdict: Working with PiCsLab, you will enjoy the mix of a simple, intuitive interface and a set of excellent functions. There are almost all the necessary tools to correct the picture. It is possible to influence brightness, adjust the saturation and exposure while working with one of the best photo editing apps for Android. When improving pictures, you can use stickers, overlays, and artworks.
The possibility to add some text to the picture was carefully developed by the authors of the best photo font editing apps for Android. You can use multiple layers of text, choose the color, adjust transparency, make it three-dimensional and add shadows if you run the app on an efficient tablet for photo editing.
You can also easily crop a picture using standard ratios or with the help of the "Pruning" tool to crop it to the desired width and height. In general, it is a very worthy and versatile image editor.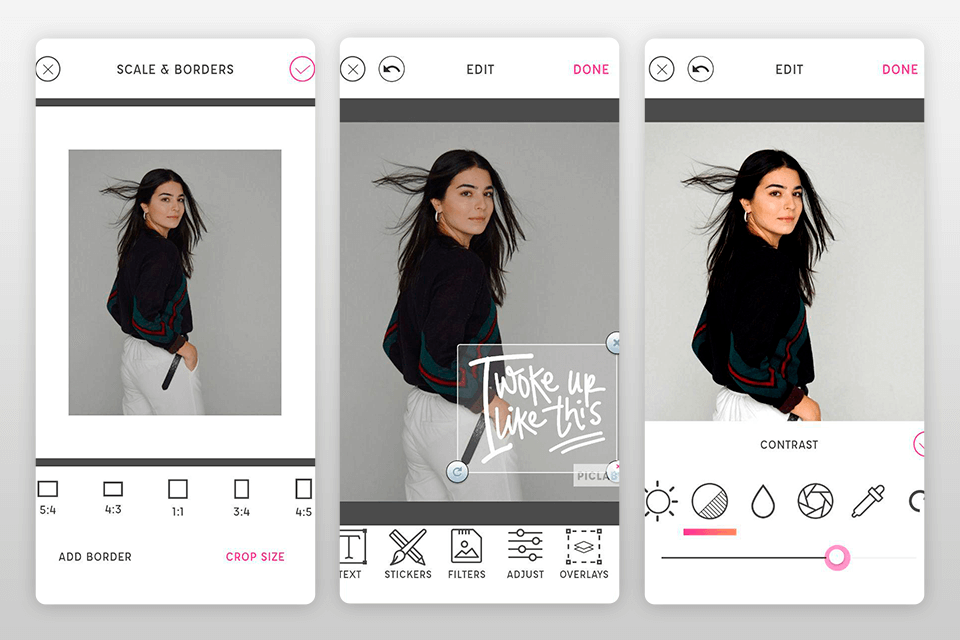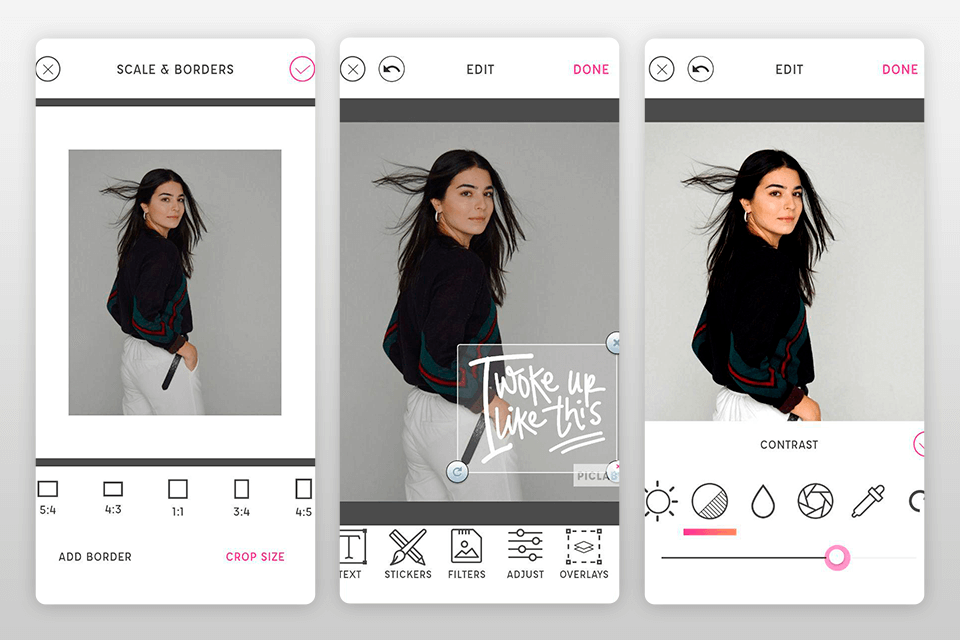 ---
13. Avatan
Professional work with portraits
Many useful functions for active users of Instagram & TwitterMany useful functions for active users of Instagram & Twitter
No restrictions on the image size
Possibility to receive feedback from other users
You can use your own elements during photo editing
Paid functions
For basic edits
Verdict: Avatan lets you work with the basic parameters of the image, influence its brightness, size, contrast, and so on. The main advantages of this photo editor app free are tools designed to edit portraits. They can change facial features and do other useful things.
Such software is suitable for people, who are crazy about changing their main photos in social networks. The program can add a shadow and the effect of lipstick and blush. Besides, you can use not only the images stored on the device but also pictures from the global network.
If you select this best Android app for photo editing, you will be able to improve pictures of any size. Moreover, you can save the effects you have created to your favorites, in order to apply it to your new works in the future. If you want more advanced features, you should use Spyne AI editor.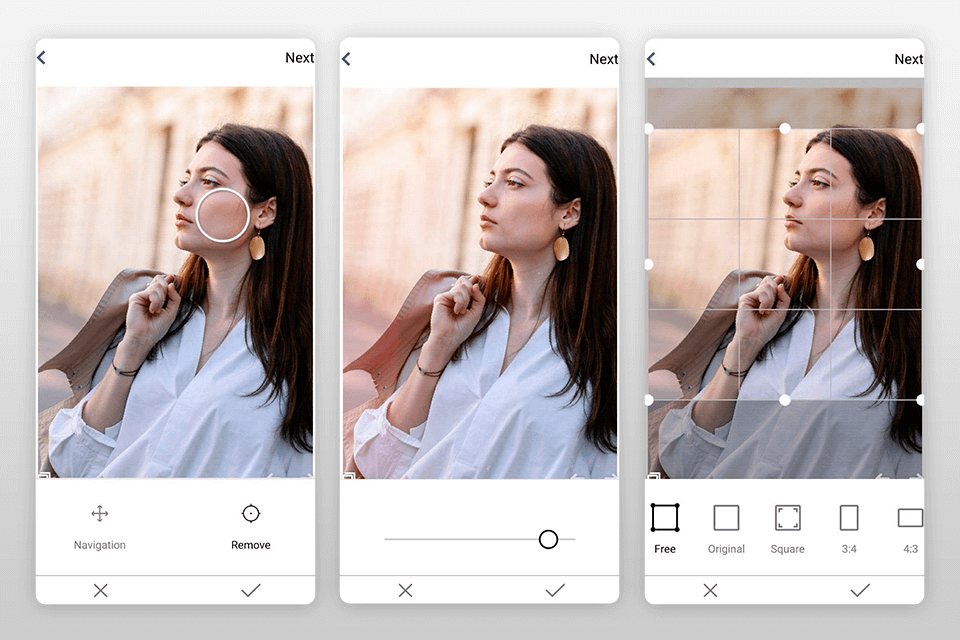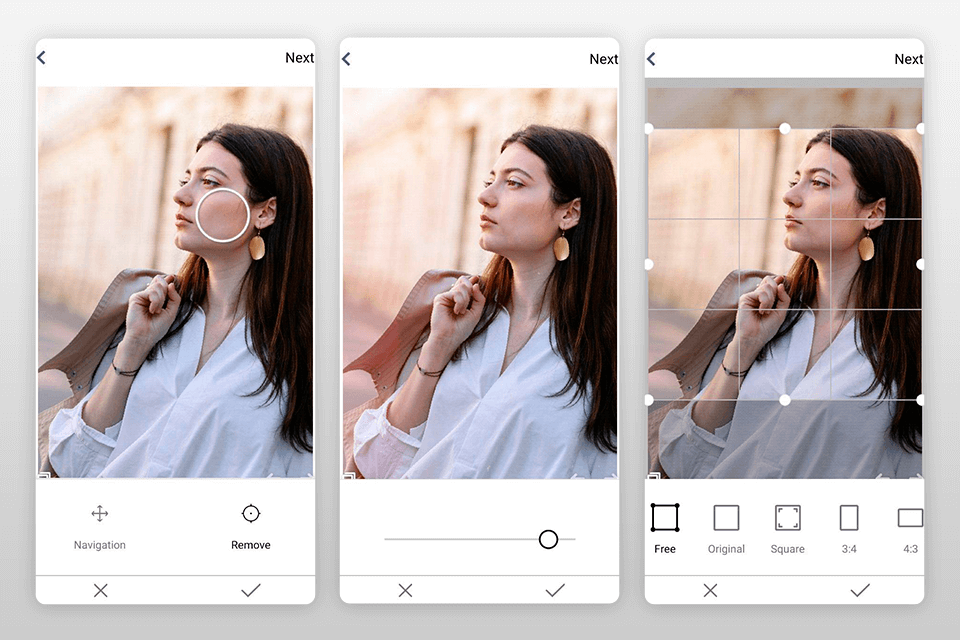 ---
14. BeFunky
Good collection of tools and filters
Subscription to web photo channels
You don't have to subscribe
Huge set of copyright photo frames
Some functions are paid
For amateurish image editing
Verdict: BeFunky Photo Editor in fact also a very nice app for enhancing your pictures. In addition to the usual set of functions, such as resizing, editing contrast, brightness, this software can apply filters and layers, allowing you to smooth or change the color scheme of the picture.
The main advantage of this photo editor app for Android is a stunning set of templates that are being constantly upgraded. In fact, the users create the templates themselves and share with each other, so their imagination is not limited by the developers' ideas.
The application is compatible with many well-known social networks. As a result, you can publish your pictures using the program interface. There are own galleries, where users can view other people's works and bring their own one.
You can also share your own custom filters and frames for photos or use ready-made ones. Although this is not an ideal option, BeFunky still remains one of the best photo editing apps for Android, so you can use it for basic edits if you don't want to spend money on expensive photo enhancement services.